The hubby so graciously offered to pick up this bad boy that I found on Craigslist. Little did I know when he brought it home that is wasn't in great shape.
I has 1954 stamped on the back on the dresser but it has 1838 stamped inside the drawer. So I know its old, but I have no clue exactly the age! It also has dovetail drawers and beautiful legs. It was also pretty banged up. I decided to start sanding the drawers, but after 3 drawers I realized it had about 10 different colors of paint on it and my arm was about to fall off!
There were also a lot of holes and gashes that had to be filled and sanded.
So I gave in and ordered some of Annie Sloan's Chalk Paint because I heard it goes over ANYTHING!
I stalked waited patiently for the UPS truck and finally it did! I said forget sanding, and let's paint this! The paint actually went over say better on the drawers I left painted than on the drawers I sanded! I was in LOOOOOOOOOVE!
Anyhoo, I painted it 2 coats, then distressed it. Distressing with chalk paint is a little different because when I used the sandpaper, the paint just kind of turned "chalky". So I got out my handy dandy purdy tool and began scraping in various places.
This is what I ended up with:
And this is the finished product with beautiful glass knobs....
I also finished the dresser with Annie Sloan's clear wax and a little dark wax.
This was my first experience with wax as well, and it was in interesting one! I learned to use dark wax sparingly on light colors!
This picture I got from Hobby Lobby a while ago and just put in a cute frame. Side story: All the shells in the apocothery jar were collected by the hubbs as a momento from each time we go to the beach! So sweet, I know :)
So a few more looks at my antique dresser that looks so good in my beach room but has to go in the store because hubby is making me there is no room!
So Before....Meets After!
>
>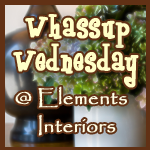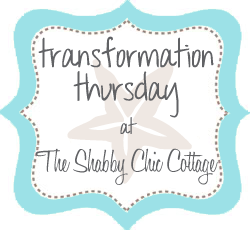 >

>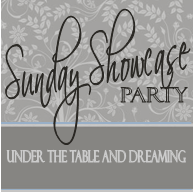 Alchemy From Trash to Treasure Party