I am so excited for the start of the 12 Crafty Days of Christmas Blogging Series.
To kick off the first day, we have a very talented blogger, Cassie from

Primitive and Proper

. I LOVE to participate in Cassie's POWW link ups! Without further hestiation, here's Cassie!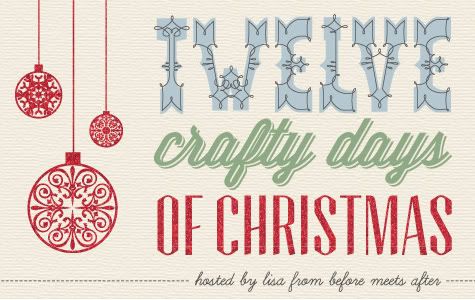 ____________________________________________________________________________________
Hi there
,
Before Meets After fans! I am Cassie from
Primitive & Proper
and I am so excited to be here. Lisa is so sweet and talented and I was honored that she asked me to share a Holiday craft. I have to admit that now that I am blogging, I feel a slight pressure to have a beautiful magazine-spread worthy holiday home, but my home is usually made up of things I love that have meaning, memory,and are special to my kids. Now that I have them, they are what Christmas is all about for me.... getting to feel that magic with them and be a kid again! So my decorations might not ever be in a magazine, but they fill our home with love.
We recently moved into a new (to us) home and we are lucky enough to have a large lot with trees, including pine trees. Emmy and Sawyer (my kiddos) and I thought it would be fun to collect pine cones from our trees for crafts. We decided to glitter the pine cones and create a wreath that we all contributed to. We also decided to make this a yearly thing, so that each year we will add a new glittery pine cone wreath to our home. It will be fun to see how they evolve over the years as my kids grow.
This project is pretty simple. You will need...
- a grapevine wreath
- several pine cones
- fine glitter in whatever colors you choose
- Mod Podge or decoupage medium
- paint brushes
- hot glue gun
- spirited children
After we gathered all of the pine cones, we allowed them to dry for a couple days. Once they dried, we were ready to work! We painted Mod Podge on with brushes, and then sprinkled the glitter onto each pine cone.
And my MIL drew that fabulous Daisy duck you see!
We allowed the pine cones to dry overnight. Then using my hot glue gun, I glued the pine cones to the grapevine wreath, and I had them all face the same direction, I filled it as best I could to make it nice and full. We have an area of brick fireplace on the exterior of our house on our porch. I nailed a masonry nail into the mortar, and hung the wreath there.... and voila! A tradition is born!
As you can see our wreath is very colorful, and not traditionally Christmas colors, but my kids used what they loved and I used what I loved (silver and white!) and together, we made something pretty for our home that greets our guests as they arrive!
Thank you so much for having me here today, Lisa! Hope to see you over at my blog soon!