Mom....stop reading immediatedly. You will ruin your Christmas present!
Ok...no that we have that over with, I wanted to share with you a REALLY cute and easy gift idea for anyone in your life.
A friend at work sent me this idea, so it's not original. First, you need to buy some of this.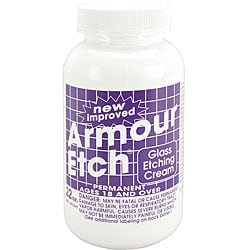 You can find this stuff at Hobby Lobby. I used my 40% off coupon and paid around $12.
I bought a 20 piece Pyrex set for my mom, but I wanted to make it more personal. Her last name starts with a B, so I used my cricut and some contact paper to cut out big B's.
You will need to lay the contact paper on your cricut where the label side is facing up.
I cut out all the B's and applied them to the center of the glass.
I applied the glass etching creme with a cheap foam brush and waited for about 5 minutes.
I scraped off the excess with the foam brush and put it back into the bottle.
Then I wiped off the excess with a damp washcloth.
I peeled off the contact paper.
I just LOVE how these turned out! I might go glass etching crazy and start doing all the dishes in my own house! How cute would these be for neighbor gifts, teacher gifts, etc?
Have you ever used this stuff before? Do you have anything you want to etch?